Beautiful Places
The most stunning and beautiful places in Morocco to take photos.
24/7
While everyone is essential, a great team of experienced agents is pleased to help.
Fast Booking
Fast, Easy, and Hassle-Free online booking. Book from home & pay at the meeting.
Passionate Travel
Traveling with local guides & drivers is a gate to Moroccan authenticity.  
"Berber desert tours" is a Moroccan travel agency based in Fes. Our team is composed of indigenous Berbers, belonging to a tribe that used to have a nomadic life but had to settle down in Merzouga village.
Our tour guides have long years of experience in the most prominent and famous destinations of Morocco such as Dades, Todra, Merzouga, Erg Chebbi dunes, Marrakech, Fes, Casablanca, and more.
We have been organizing Morocco tours since 2012. We have earned the experience and skills that make us professional guides that clients appreciate and love. All of our guides fluently speak Arabic, French, Amazigh, and English.
After many years of experience in the field, our travel agency "Berber Desert Tours" was founded at the request of countless happy clients. Today, we continue to provide the best itineraries and services for clients from all around the world.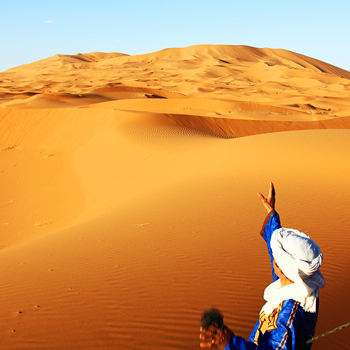 "Berber desert tours" offers some of the most amazing tours all over the country, which would be a great help if you're ever wondering what to visit in Morocco. If it's your first time here, the number of things to see and do can get a little overwhelming. This is where we will step up and help you get the best out of your stay here, by offering you these inclusive itineraries and tours.
From mountains to forests, beaches, deserts, and world heritage sites; Morocco has all that one would want to see, and our tours will cover and include everything that you need to experience during your stay here.
Want to visit the Moroccan Erg Chebbi desert or Zagora desert? We got your back. Want to explore Morocco's famous Old Medinas and imperial cities? "Berber desert tours" is here to guide you. In fact, you will be surprised at the amount of UNESCO Morocco world heritage sites the country holds, but don't worry, there's most definitely a tour including every single one of them.
The tours can start from either Fez, Marrakech, Casablanca, or Tangier and they can last anywhere from 2 days to 2 weeks. They also cover destinations from all of the four corners of Morocco, so really all you have to do is choose one and get started on this exciting journey!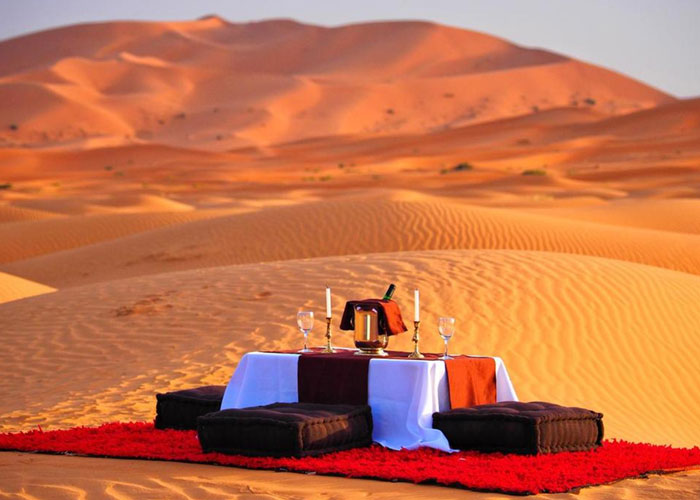 3 days From Marrakech Sahara Tour
The 3-days Marrakech to Merzouga Desert (Erg Chebbi) tour gives you the chance to experience the incomparable feeling of being in the middle…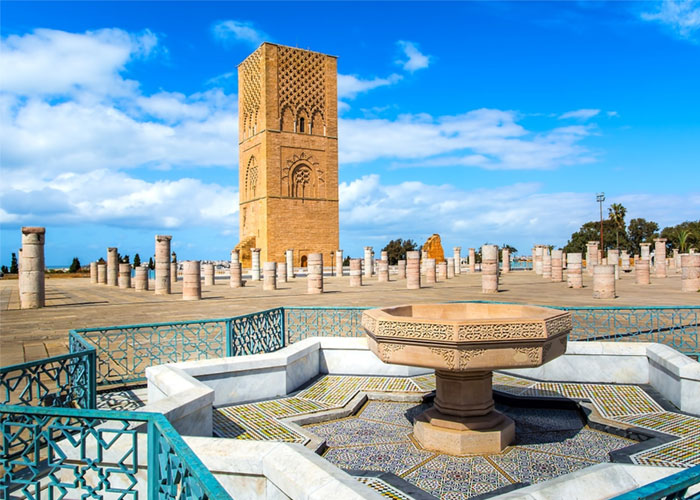 8 Days Tour To Merzouga From Marrakech
This 8-Days Merzouga tour from Marrakech to Merzouga (Erg Chebbi) is a chance to travel through the High Atlas mountains. Visit Ait Ben Haddou…
9 days tour from Marrakech via Sahara desert
Join us in our look for knowledge. Moroccan Imperial Cities by strolling through the narrow streets of Marrakech and Fes & Rabat Spectacular views of…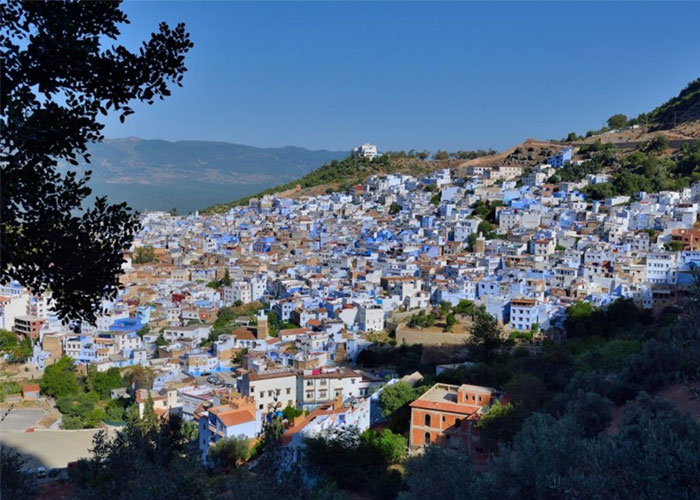 10 days from Tangier to Marrakech morocco tour
On this desert tour from Tangier to Marrakech 10 days, you will have the opportunity to see some of the most beautiful jewels in the country…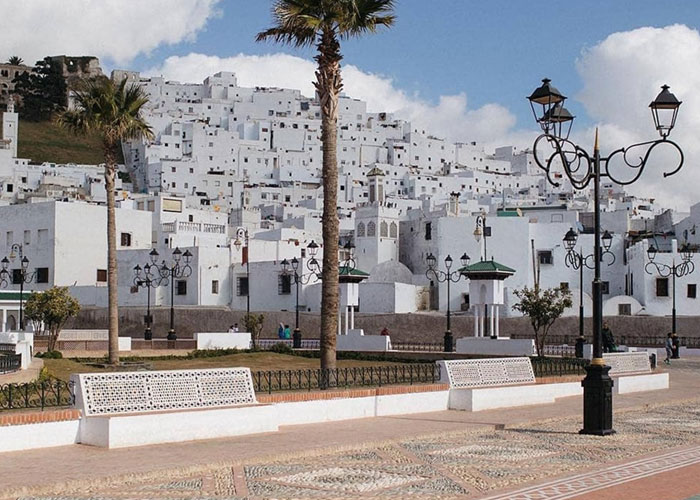 12 Days Tour From Casablanca To Chefchaouen
This is a 12 days tour from Casablanca to imperial cities and the Sahara Desert. it's an occasion to visit tourist places in Rabat Hassan Tower, Oudaias,…
16 Days from Casablanca around Morocco
Morocco has many layers to explore. Its long history has seen Berbers, Roman invasions, Islamic conquests, and European colonization, all of which…

Our one-day trips from Marrakech are designed to offer you an escape from the business and the hot weather of the red city, which will be of extreme relevance if you're visiting during the spring or summer time when temperatures are at their peak. We will make sure to make your day trip cool and comfortable, just like in any other tour that Berber Desert Tours offers.
It's important to note that Marrakech city is also surrounded by some wonderful Moroccan world heritage sites such as the Kasbah of Ait Ben Haddou or the Old Medina of the charming Essaouira city for example. UNESCO world heritage sites are always a great plan to go for if you're ever not sure about what to visit in Morocco, and through our one-day excursions, we will make sure that you get to visit them.
Almost all of our one-day trips from Marrakech include some type of natural scenery and landscape to discover; some require more walking/hiking than others. So don't forget to pack your most comfortable pair of walking shoes, and be prepared for an exciting adventure to one of the many destinations we offer!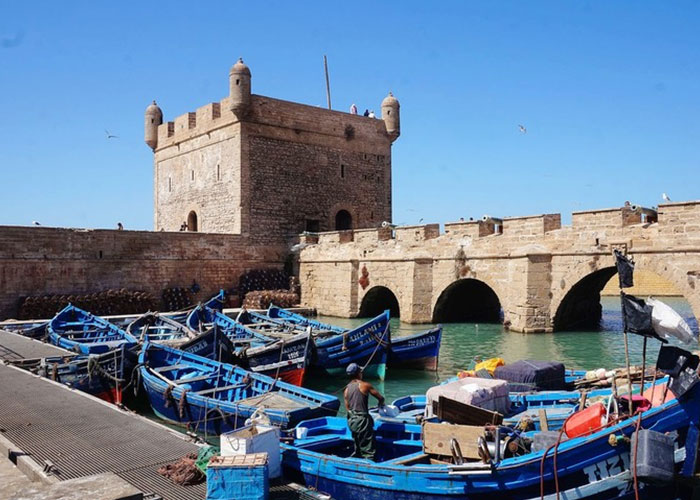 1 Day Trip to Essaouira city is one of the popular one day trips from Marrakech. It starts from Marrakech at 8 am after picking you up from your …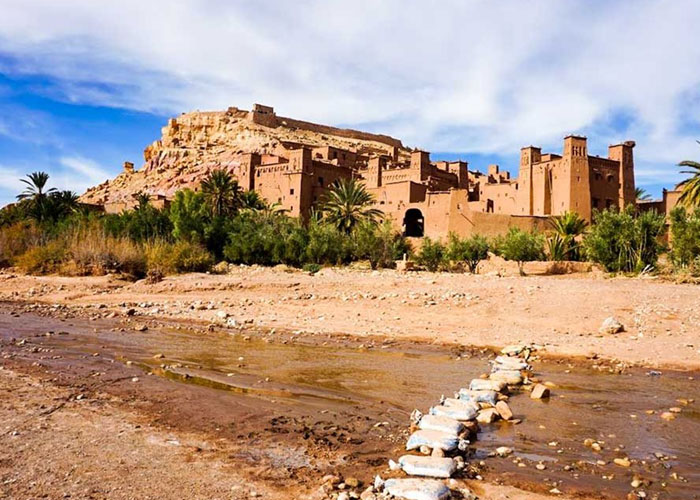 This 1Day trip is programmed to visit Ait Ben Haddou Kasbah which is 175 km away from Marrakech city. During this travel,…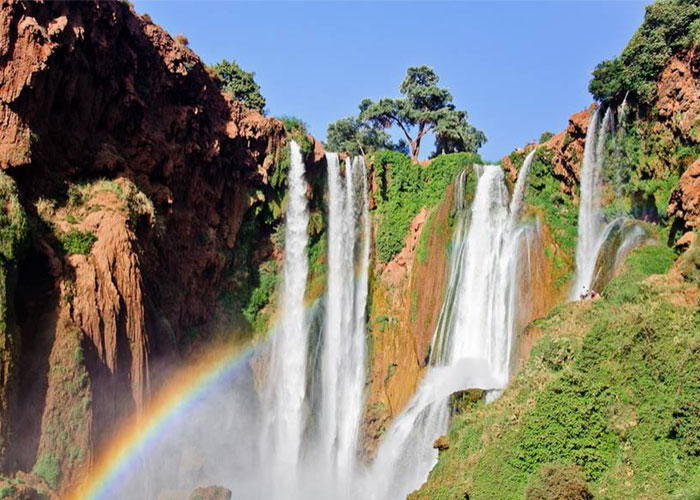 At 9 am, we will pick you up from your accommodation. Then, we begin our 1Day trip with driving to Ouzoud Waterfalls via the Atlas Mountains,…
See what our clients say about us!
Amazing trip Our expérience was very Amazing with Hami the organiser of the trip.First WE went from Fès to desert WE Saw the sunset ,rided camels and spent a very good Time in Sand and then WE spent the night in a very excellent camp between dunes .Then WE left desert to ouarzazat by tinghir and toudgha's throats .And WE finished in marakech.Our guide hami was very professional , kind , and helpful with any information WE wanted .I really recommand berber desert tours company.Thanks You hami .
Amazing experience 2 day tour to the Sahara desert with one night in the desert. Door to door service with everything except lunch was included. We were 4 adults and 1 teen. Had a fabulous time on the journey from Fez to the desert via the Atlas Mountains and back stopping along the way.Our driver was patient and although did not speak feint English was helpful. Only improvement would be to not take calls on his phone whilst driving.The camp itself was really nice with an en-suite bathroom and nicely done from the inside. The food was very good and the hospitality was much appreciated.The camel ride from the edge of the desert to the camp was about an hour at sunset which most of us enjoyed.I would also offer buggies or quad bikes as an option at the camp site for interested people even if this costs more.Seating area outside the camp site under the stars was magical. I suggest making self service tea/coffee available.Breakfast as camp site was reasonable.M'hamed is wonderful, speaks English well and was prompt in responding to us..Thank you for organising the trip for us.
And amazing tour Hammi is the best tourist guide! He'll explain you lots of curiosities and he'll make sure you don't need anything. He makes things so easy, what's handy when you're in a different country. I recommend 100% his tour! For sure we'll come back as soon as we can 🙂
Amazing tour with great Company We are a Portugal family,and we booked 10 days tour with Berber Desert Tours agency with reasonable prices .they were friendly and kind with us ,they treated us as their family and we feel comfort with the agency staff ,thank you for Hami our tour guide and Youssef our driver , we visited much cities like , Marrakech which was our starting point, Merzouga sahara,fes and Chefchaoun the blue city ,We would like to thank all agency members for everything you offered to us ,We will come back again and book with you absolutely.We recommend this company for anyone else want to explore morocco Muito obrigado
Best desert safari We had 3 days with Berber desert tours company,which organized everything for us ,thanks allot for the company crew , especially Mohamed our guide ,we started this 3 days from Marrakech to fes via Sahara desert .I recommend this agency 100%
Ana Maria santos
2022-10-10
Incrível Uma experiência incrível e inesquecível amamos a cidade tudo lindo, um passeio pra guardar na memória pra sempre,foi fantástico
Great Sahara tour The tour with Berber Desert Tours Company was amazing, and everything was perfect! Our guide Mohamed was really kind and friendly! The moroccan was yummy .we visit many cities like casablanca,merrakech,we slept at desert camp ..and the atmosphere is magic! Hope to see u again brothers!
Amazing All good and places amazing. People adorable and the guide always lovely . I will back more times , now with all my family. The foods amazing , the city without doubt give you a only and one experience positive.
Amazing trip with a memorable finish! Youssef took us on a journey through Morocco's highlands and villages. His knowledge of the locations was exceptional. We had plenty of opportunities to simply enjoy the views and beautiful surroundings. The trip ended with a camel ride to the camp, where we enjoyed a wonderful evening (dining & tea included). My recommendation is to get up at 4:00 a.m. and stare at the stars in the desert. This is impossible to put into words.
Süper Mükemmel bir ülkey güzel servis ,ve yemek çok lezzetli tekrar oraya gidiğcem .her şey için teşekkürler arkadaşlar…..
We love to hear from you!
berberdeserttour@gmail.com